---
We first installed pc/MRP one year ago this week (4/4/08). Take a look at the cake we had for it's birthday.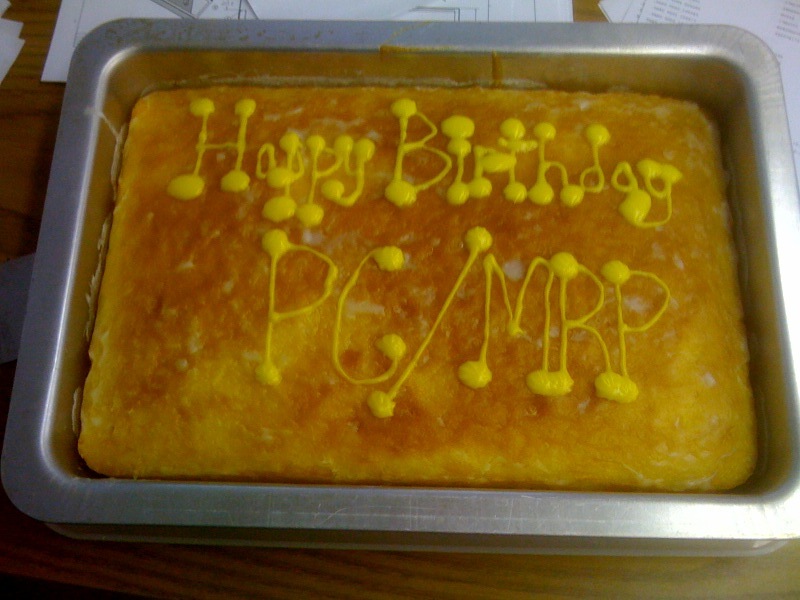 ------- Joel Johnson
---
I am writing this letter of recommendation for pc/MRP because it is the best, most cost effective, manufacturing business software package I have ever used. And I've used a lot of them.
What's special about pc/MRP is first of all the price. For less than $5,000 we got a complete business system that could take us to almost any size. And then there's ease of use. All modules work the same way so there's a very low learning curve. Most important though is the system allows us to run our business our way. It's still garbage in garbage out, but with data integrity, pc/MRP is an extremely flexible tool that can manage data with virtually endless ways of turning it into information.
Last but not least, customer support is wonderful. After an initial 8 hour introductory course, all communication has been via phone or computer. In the eight months since our implementation there has never a problem the folks at pc/MRP couldn't fix IMMEDIATELY! These people are pro's. Not only do they know their software, they have a deep understanding of manufacturing and accounting.
pc/MRP has been my 7th system implementation and it's been by far the most pleasurable.
UPDATE 4/24/2009:
We've just finished a review of pc/MRP system with the intention of finding issues and system deficiencies. The results: No issues, no deficiencies, no requirements not fulfilled by the system. Complete satisfaction in every department. Congratulations on your excellent software!
By the way, we became ISO9001-2008 certified in March. This accomplishment would not have possible without pc/MRP.

------- David Trudeau, Director/Operations
---
I would just like to express my thanks for the great service you provided yesterday. It is really good to have such a good customer service, it was a pleasure speaking to you.

------- Kris Karslake
---
... this session is all about closing the quarter of a public company accounting and using pcMRP's costed BOMS to drive the COGS!!!!! This is a real riot! I have SOX auditors all over us... BUT... the good thing is that pc/MRP software hasn't failed us! They thought this was a MUCH LARGER System, and cannot believe what they see coming out of it!
pc/MRP's Costed BOMS play second to none... Nice work you guys! It sure makes my job easier when I can trust the data!
------ Dave Zich, DMSCO, Inc., Systems Implementation Specialists.
---
By Lyle Barnard

Thank you for the download. I purchased your demo two years ago and use it in classroom computers with students taking our senior-level MRP and Inventory Management courses. The experience with "real" software is very helpful to give students some understanding of many of the issues arising in running such software. We value your software greatly and appreciate you making it available at such a modest price (the previous edition demo) and, now, FREE.
---
"pc/MRP is like a Honda, you put the key in the ignition and it runs!"
------- Dwight Hargraves, Vice-President of Operations
---
From what I can tell, it worked flawlessly! Thanks again for going above and beyond the call of duty for us. You really do provide true customer service where other companies fail miserably. Thanks!!

------- Brendan
---
pc/MRP is the easiest program I have installed and used. Technical support is 1st rate.

------- Terry
---
I have been a user of PCMRP, since 1993 and a fan ever since. This is my second company using PCMRP. The first company grew to over 100 employees in 4 years, and the current company is 9 years old and 50 employees, but 20 times the number of customers and products.

We use the program as it is...with only a couple of customized reports for data reporting. The product design of PCMRP is so "logical". Not just whistles and bells, but functional and logical approaches. As the program has evolved over the years, a conservative expansion of features has served our business well. Our ability as a small company(50 employees) has been greatly enhanced due to the simplicity and functional prowess of PCMRP. We would not be where we are as a company, without PCMRP. We sign up yearly for the minimum support levels possible, and never exceed the allotment.

------- Steve Burk
---
"Purchasing pc/MRP was one of the best decisions our company has ever have made"

------- Ron Bowman
---
"I don't really understand why the program is not more widespread in use. It is a great value compared to the MRP software sold by others."

------- Gerry Graham, President
---
"Stable, long-term product, but not a bit out-dated!"
Pros
Software Arts provides real-time help; They have a fast, curtious, and effective staff. My recent upgrade to rev. 8.8 showed "drastic" instant improvments in report generation speeds. pcMRP offers great flexibility, not only in the broad selection of modules, but also the vast selection of options to configure the database to your business needs. The software is stable; Back-up is fast and simple. The purchase price is very good, training tools and documents are excellent... and during my 9 years of use, support has always available and effective. The most recent "plus" for me was their willingess to develop a new tool extention for me at a low investment cost, with the understanding that it would be a good tool to offer to other users later. My experience with past brands have offered the same service, but at over 10 times the cost.
Cons
I'm realistic... using this stuff takes more than 6 months to fully understand and to configure it to your business. We train new employees how to use every module effectively in less than a month. If you can't figure out pcMRP... then you need to move into politics or some other non-challenging role. I haven't found any cons that they couldn't step me through.
Summary
I've tried the others - and left them behind. After 9 years of using pcMRP in a $25M/year manufacturing/sales environment, I will not consider moving to any other software package. I'm sold on the product and services of Software Arts. I call them annually to update my service contract... it's cheap insurance, and keeps me up to date with all the new improvments.

------- dwuni (CNET, 2013)
---
"We are a small company, PCMRP does everything we need."
Pros
Very flexible to our needs. Does everything from inventory functions to purchasing to customer sales and invoicing. Customer support is very good. Price of complete package is well worth it and very very competitive.
Cons
We are located on the east coast, service is on the west coast of the U.S.Time lag can be an issue, but not too often.
Summary
We have used this program for over 10 years. This program has everything we ever needed, and has grown with us through the years.

------- PAULBODNER (CNET, 2013)
---
We have used pc/MRP for many years, and we have always been extremely happy with the software, the service, and the guys who stand behind their product. We are a small company, and do not use all the modules they offer, only because my Boss is happy with his accounting programs, but I would like to see us in the future us pc/MRP in its full capacity.

This is not an expensive software product when you consider all you are getting, they stand behind it, and they will spend what ever time is needed to help you get it up and running, or walk you through your problem. Sure they cannot have unlimited "tech" time, but then neither does Microsoft, it is still always available.

I would like to say THANK YOU to pc/MRP for making a product that is easy to use, does all we need it to, but most of all to the staff for all the help they have extended, time after time.

I would highly recommend this company,t his software, and if you need to, call and talk to the guys about your company needs before you purchase, they have put a lot of time and effort into their web site to make it helpful and easy to use.

Thanks again!!

------- Debbie Warner (Softpedia, 2011)
---
Support is very helful. They knew the questions to ask and solved the problem in a short time. Response time is excellent.

------- Edna Carter (Softpedia, 2011)
---
PCMRP IS EXCELLENT, THEIR PEOPLE, KNOWLEDGE, AND SYSTEM WORKS GREAT!!! WE ONLY USED 1 MODULE FOR YEARS. JUST WENT TO 15 MODULES OVERNIGHT, VERY EASY TO USE. I WOULD NOT WANT TO USE ANYTHING ELSE, VERY EASY TO RUN REPORTS, NOT EXPENSIVE IN THE LEAST (COMPARED TO ORACLE) EASIEST THING TO USE ON A DAILY BASIS WITH REPORTING ETC... EVERY EMAIL AND PHONE CALL IS HANDLED WITHIN MINUTES OR LIVE ONE OF THE BEST SYSTEMS I HAVE USED..

------- Mark Petrich (Softpedia, 2011)
---
Great software. A little on the pricy side. But never had any issues with it. Support can be a bit costly since that is the primary way they make money but they are very helpful and willing to walk you though just about anything.

Been using the software for 5+ years now without any major crash or meltdown. And the users seem to like it and learn it quick. I am satisfied.

------- Sean (Softpedia, 2011)
---
This product is rock solid and has been for years. Yes, it is running FoxPro which is a bit dates, but so is COBOL which was running banks for ages. The software works and is fast. You can make tons of reports and customize as needed. Integrates with QuickBooks and ecommerce. Pricey? Not compared to other MRP software that do the same.

------- Rick Zich (Softpedia, 2011)
---
We switched from the "pen and paper" method about 3 years ago and have been happy with the product. A former employee started the process, so I don't know that we use pcMRP to its full capacity. The support has always been great and the staff is very easy to work with. For the cost, I would say it was worth its price.

------- Tracy (Softpedia, 2011)
---
For the price paid, this product does a good job.

------- Dean (Softpedia, 2011)
---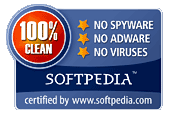 Softpedia validates pc/MRP with the 100% Clean Award!
"pc/MRP" has been tested in the Softpedia labs using several industry-leading security solutions and found to be completely clean of adware/spyware components. We are impressed with the quality of your product and encourage you to keep these high standards in the future.
---